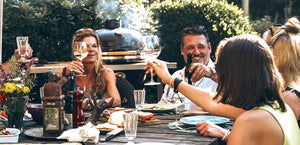 DEVELOPED BY GRILLERS FOR GRILLERS
Introducing Monolith
We are super excited to add Monolith to our line up.
With great styling, innovative design and awesome functionality. They are made by grillers, for grillers.
With an eye for detail they have designed and built a high quality Kamado Grill, that lets you Smoke, Grill, Bake & Boil.
With innovative accessories like the skewer rotisserie, wok ring and plancha plates they are an all in one Grill.